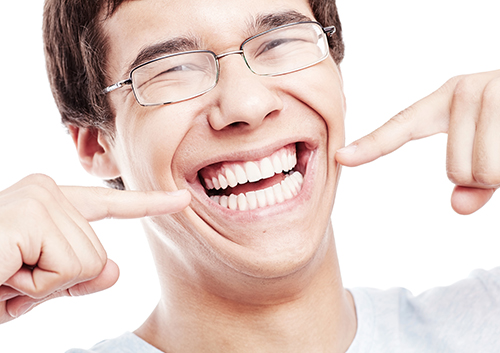 You brush and floss thoroughly twice a day. You have regular checkups. Everything seems fine on the periodontal radar. Sometimes, however, even healthy gums can become sensitive and irritated. Is it something you did? Maybe! Here are some common causes of gum irritation and sensitivity that you might not be aware of.
One of the most important tools for gum health is one we use at least twice a day—the simple toothbrush. Two minutes at night and two in the morning reduce the bacteria and plaque that lead to serious gum disease, known as periodontitis. And while preventing tooth decay and gum disease are the primary goals of brushing, let's also protect delicate gum tissue from injuries and irritation caused by too-forceful brushing.
Try using a brush with soft bristles and brushing with short strokes and gentle pressure, especially if you know you have a tendency to be a bit heavy-handed. Massaging rather than scrubbing will clean teeth and gums just fine.
Just because we can use dental floss to slice cakes or cookie dough logs doesn't mean we should apply the same pressure to our gums! While a firm sawing motion seems like the obvious way to clean between teeth and gums, you can actually cause irritation and bleeding that way.
Insert the floss between your teeth carefully, bring it to the gumline, and move the floss with gentle pressure up and down and around the tooth surface. This technique will make sure that you remove food particles and plaque from beneath the gumline without causing your gums any trauma. Ask us about the best flossing techniques—we know them all.
You know how helpful your braces/retainers/mouth guards/dentures are. You just wish that your helpful appliance was a little less irritating to sensitive gum tissue.
This is a problem that often disappears as you get used to your new appliance. But if pain or irritation persists or gets worse, give us a call. We want to make sure your appliance fits properly, and make any necessary adjustments to ensure your comfort.
Most home whitening kits use peroxide-based gels or treated strips to remove surface stains from the teeth. Those same bleaching agents that make enamel whiter can also cause gum sensitivity and irritation. If you use whitening strips or gel trays, be careful to keep the peroxide solution away from gum tissue. But because these systems are one-size-fits-all, that is often easier said than done.
If you have sensitive gums, one solution is a professional office whitening. We'll check on your gum (and tooth) health first, and monitor and protect your gums throughout the procedure. If you still want to whiten at home, we can create custom trays for you that will provide more complete exposure to the whitening solution for your teeth, and less exposure for your gums, than over-the-counter products.
Studies have shown a strong link between gum health and smoking and other forms of tobacco use. Smokers are much more likely to suffer from gum disease than non-smokers, and those who have smoked for a long time, or who smoke heavily, have an even higher risk of developing periodontal disease. Some studies suggest that smokers don't respond as well to treatment as non-smokers. Unfortunately, it appears that smoking and tobacco use help mask the obvious symptoms of gum disease (redness and bleeding), which could lead smokers to delay getting treatment. If you smoke, talk to us about ways to quit.
We talk a lot about periodontal health because it is so important. Periodontitis can lead to infection, loss of bone around the tooth, and even eventual tooth loss. If you are suffering from any of the signs of gum disease—swelling, redness, bleeding, pain—give our Concord, NC office a call. Whether it's as simple as making a few lifestyle changes, or a problem requiring professional dental treatment, being proactive with your dental care is more than good for your gums—it's good for your health!