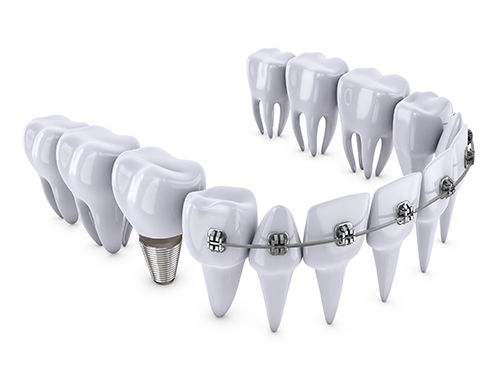 If you have missing teeth and need restorative work done, orthodontics and implants can work hand in hand to achieve your desired result. There are different scenarios that could require an implant before an orthodontic appliance or vice versa. Your case will be unique and Dr. Robee Bailey Jr., DMD will design the best plan for you. Here are some of the ways implants and orthodontics can work together to give you your smile back:
Implants provide anchorage for orthodontic appliances: For an orthodontic application to be effective it needs to be able to put sufficient torque on your teeth to move them. If you have several missing teeth there won't be anything for the appliance to anchor to.
This is where an implant can be used. If you replace the missing teeth with dental implants, you then have a sturdy anchor on which you can place braces or any other orthodontic appliance needed to correct the malocclusion.
Orthodontic appliances can be used to create space for an implant: When you have a missing tooth, surrounding teeth tend to drift and tip which doesn't leave an ideal space for a dental implant. However, we can use orthodontics to correct the space where the tooth was, positioning the adjacent teeth so as to make a perfect space for the implant. In the end, this correction lends to better hygiene, function, and aesthetics.
Mini implants can be used to close spaces: Mini implants can also be used to close spaces if you have a missing tooth or teeth. The mini implant or implants (a small titanium pin) are placed directly into the jaw and are used as an anchorage device to achieve the desired orthodontic result.
A combination of orthodontics and dental implants at our Concord, NC office may be what's needed to restore the form and function of your natural teeth.